K-9 Kuts, a Weston Pet Groomer Celebrates 10 years with big discounts!
November is such an exciting month for us (and you, as you'll soon find out).  Not only do we love the Thanksgiving holiday, but November 21st marks our 10th Anniversary! (Where have all those years gone???)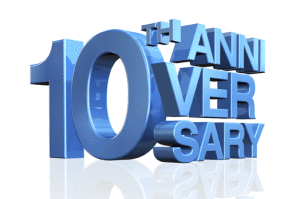 To celebrate, we're giving everyone who comes in for a bath or grooming that day
20% off their service
!  That's right… instead of this Weston pet groomer getting gifts, we're giving gifts!  (20% is better in your pocket than someone else's right?)
Also, if you can't get in on the 21st, we'll be doing raffles that whole week!  Everyone who comes in will have the chance to draw a ticket.  Each ticket will have a value worth between 10% off their service all the way to 100% completely FREE!
Not only are we doing the 20% off on the 21st and the raffle, but of course we have also posted our monthly coupons that are filled with even more savings!  If you haven't done so already,
click HERE to get to the coupons
, print 'em out and bring 'em in!
So please… come join us and celebrate with us during the rest of the month.  We can't wait to see you!