Grooming is Our Specialty!
Grooming Procedures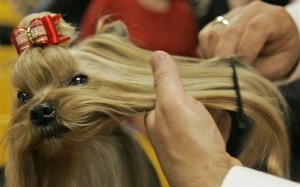 Our grooming procedures cover a wide variety of services.  Our first goal is the safety, well-being, comfort and protection of your pet. First and foremost we ask that you let us know if your pet has any special circumstances that may affect any grooming procedures.
To begin, we gently place cotton balls in your pets ears to prevent any water from entering the ear canal.  We then place a small amount of eye lubricant to protect your pets eyes from shampoos.
What's included in the grooming process?
A complete grooming session includes a full-body shampoo (with medicated shampoo if needed) and conditioning.  While in the tub your pet's teeth are washed and glands are expressed.  This is followed by a personal by hand-dry fluffing which is a method to completely dry your pets hair to leave a "puffed" smooth coat.
Once their coat is dry, your pet is placed on the grooming table to undergo a nail trim and file, ear cleaning and plucking of excess hair.  Finally, your pet's coat is groomed in the manner which you have specified.  This process can take up to three hours depending on the size and type of pet.