Love your doggie? Let us Make Him (or Her) Beautiful for Valentine's Day
Come on in to K-9 Kuts… It's like a spa day for your pup!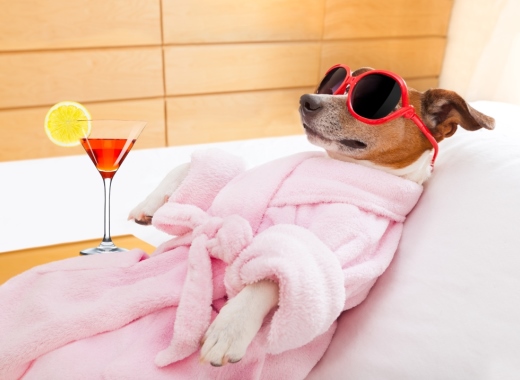 February is the month of love and love generally includes passion, right? Well, around here, we treat every month like February because we don't look at grooming and pet care as a job… it's our passion!
It's why we go above and beyond to meet your needs and your pets' needs as well. So if there is a special need that your pet requires, let us know so we can make those adjustments in time and space.
As seen in our photos, we like to have a fun, relaxed environment so your pet feels comfortable, relaxed, and stress-free while they are in our care. Although no place is "like home", we try our best to make them feel relaxed.  Hey, this is their "spa day"… they should be relaxed, right?
*We understand that EVERY PET IS DIFFERENT, Some have anxiety and nervousness; while some pets can come in and go directly to the back and hang out with us like they when they are in the dog park. That is why we have different "go-home" time frames, and establish that time frame with your when you drop off your pet.
In the end, it is all about sharing and giving love, that is what K9 Kuts thrives on.
Furthermore, we understand that taking care of your pet can be expensive, so we always offer our monthly coupons.  We invite you to use them and take advantage of the savings they offer.
So… grab the coupons below, pick up your phone, call 954-349-4441 and schedule an appointment for a "spa day" for your doggie. He or she will come home well rested and beautiful!
Hope to see you soon!  Remember, all of the offers expire Feb 28, 2021.