Weston Dog Groomer Reviews… and more!
Don't worry, this isn't going to be a whole blog post about Weston dog groomer reviews.  This month, let's take this space and do something that we normally don't do.  Shake things up a little bit. Get off the beaten path…
This month for our blog post, we want to write about the importance of the internet and how it can serve to build (or tear apart) a business.
(Article continued below coupons…)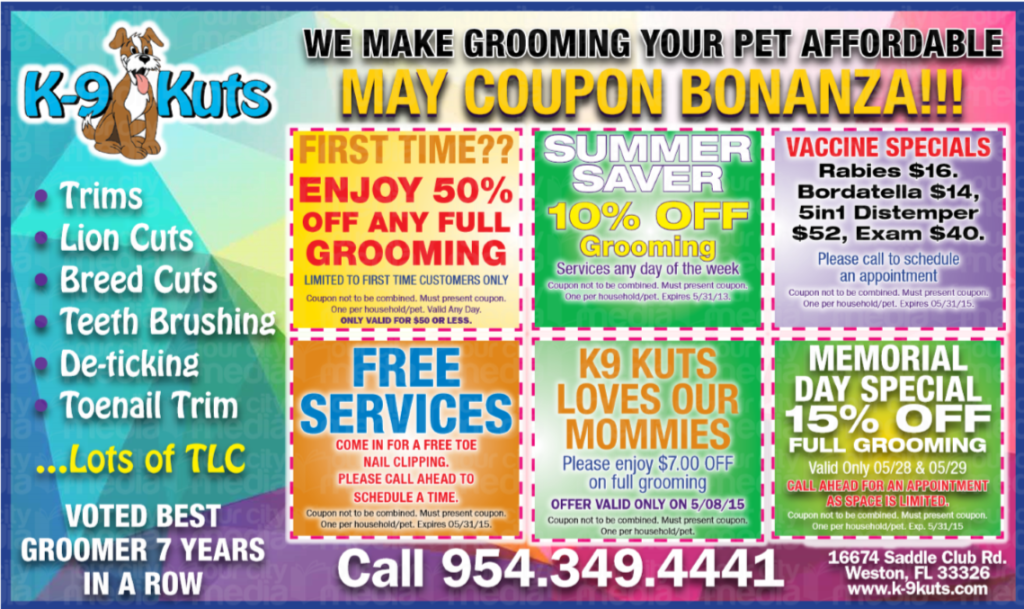 In this day and age, when you (the consumer) is considering just about any purchase, it is very common to go online and read reviews about the product, service or company which you are considering.  We do this with restaurants, hotels, doctors, lawyers, swimming pool contractors, painters… and even dog groomers. 🙂  We do this because website publishers can write whatever they want, but consumer reviews are allegedly unbiased and should carry more credibility.
While we can't put 100% of our buying decisions into these reviews, they do add a good deal of weight to the decision making process.  As a consumer, of course, there is no obligation on your part to ever write a review, but if you do ever decide to write one, here's a couple of thoughts to consider:
If you are getting ready to write a negative review, ask yourself if you have already tried to work things out directly with the business.  Remember, once you've written a review and hit "submit", in most cases, there's no turning back, no "undo" button.  Maybe you were just having a bad day when you dealt with that "impolite waiter" or had "incredibly slow" service somewhere.  These reviews that you write stay with businesses "forever".  In most cases, you should always try to discuss the issue with the management before posting that review.
On the other side of the coin, are positive reviews.  If you are pleased with the business or service you received and maybe you've noticed over time that you consistently get great service / excellent products from a given business, think about the impact and influence you can have to help other consumers get to know that business by writing a positive review and by the simple smile you will put on the owner's / servers face by posting that review.
When writing a review, good or bad, be specific.  Include things like how long you've been a client (this was my first time to _____, I've been a customer of ___ for 3 years now, etc…) Write about what you liked or didn't like.  Use names (my waiter, Eric, had a smile on his face from the time he greeted us until…")  Note how expectations were met (The pool was supposed to be done in three months, but it was finished two weeks early!)  Details add credibility to your review.  ("The food was terrible" isn't nearly as powerful as "our soup came out just slightly warm and lacked full flavor and the salad was wilty and really didn't include much more than lettuce and a few tiny other veggies".)
If you are a business owner, here's a major rule of thumb:  ALWAYS respond to reviews.  Good or bad.  It's just the right thing to do.  "We loved the service" is worthy of "Thanks for letting us serve you and for taking the time to post this review."  Responding to negative reviews shows that you, as a business owner know how to listen, reply and learn from criticism (when legitimate).
All that being said, if you've enjoyed the service and grooming your dog has received from us here at K-9 Kuts, please feel free to leave a comment or two at any of these locations:
Of course, no blog post of ours would be complete without reminding you that the coupons for the month are below!  You should be able to easily print them out.  Don't forget, they expire on 5/31/15.
We'll close with our usual reminder that the BEST way to make an appointment at K-9 Kuts is to go "old school".  That's right, just pick up the phone (you know, that thing you carry around all day and use to text, take pictures, surf the web, play Candy Crush & check Facebook.)  It also works as a phone!  You can reach us at 954-349-4441.
Thanks again for helping us win this year's award and for your kind reviews.  We hope to see you soon!