Keep Dad and the Dog Happy this Father's Day
If you are looking for the best dog groomer Weston, look no further! Call K-9 Kuts to set up an appointment for your four-legged friend today.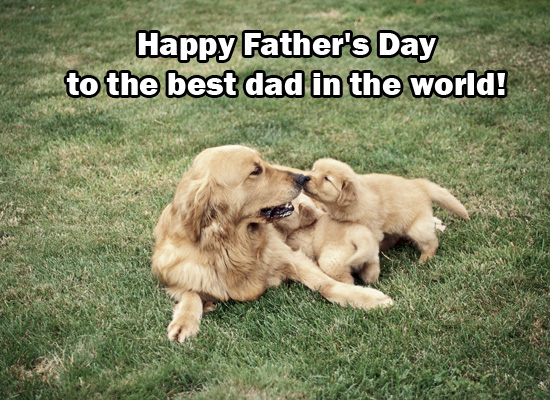 I know that every time I write one of these, I want to begin with "Wow, where did the last month go?" or "How did we get to June already?"  Regardless of how fast or slow the calendar seems to be turning for you, we're here:  Early June.  School is out.  Mother's Day is just a memory.  Graduation parties are taking place all around us and Father's Day is just around the corner.
What's it all mean for you, the proud pet owner? It means the days are hotter and longer and our pets need to be given plenty of cool water and nice air conditioning.  Especially if you have an "outdoor" dog, or one who spends the majority of his time on a back patio or in the back yard, please be extra cautious of the weather and make sure that your pet is staying cool and hydrated.
I love this pic to the left… how many of us probably feel like our dogs look to us the same way?  It's amazing how much our pets become part of our families.  We wouldn't think of taking a family portrait without them.  Vacation plans always revolve around the pets… even if we can't always bring them with us, the questions of "who will watch them" or "where will they stay while were away" always come up.
We know why you're here though… the coupons!  You know the deal, right?  Print 'em out and bring 'em in.  Oh, and don't forget, the easiest way to make an appointment is by CALLING us at 954-349-4441.
Hope to see you soon!  Remember, all of the offers expire June 30th, 2015.