Affordable Weston Dog Groomer Releases August Coupons!
If you need a Weston dog groomer, look no further! Call K-9 Kuts and find out what everyone has been talking about.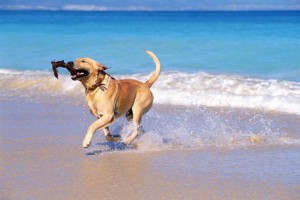 For the first time ever, we cheated.  That's right, we cheated.  We took this blog post from two years ago and we're reprinting now.  Not because we don't know what else to say… we can always come up with something new… but because its just so pertinent and we also got a lot of feedback about the blog post.  And, quite honestly, two years ago, many of you were not getting our monthly newsletters.
So here's your favorite Weston dog groomer, back again with yet another absolutely fascinating blog post.  The "dog days" of summer are here!  It's hot. And unfortunately, we're not getting nearly enough rain.  It's a great time to get out of South Florida for a little vacation.
So when and if you do leave town, what do you do with your pets?  Of course, there's always options.
1.  Take him with you.  OK, sounds good but how are you traveling?  Car?  Plane?  Train?  Be sure to check with the carrier for costs and rules.  Also, be sure that the place you're staying is pet friendly.
2.  Board him.  Kids go to summer camp, why shouldn't dogs get a little vacation as well.  Boarding doesn't have to mean (and shouldn't mean) that your pet is cooped up in a crate all day and night while you're away.  Several boarding facilities offer camp like activities with lots of space to run and play.  We suggest reading reviews and getting personal recommendations from others who have let their dog stay at one of these facilities.
3.  Dog sitter.  Is there someone reliable who you know that would want to live in your house and take care of your pet(s) while you are away?  This option is usually the easiest on your pet as they get to "sleep in their own bed".  If you do choose this route, be sure to go over all the ground rules (no parties, which bed the sitter should sleep in, etc…) and leave a detailed list of everything pet related to take the guesswork out of it for the dog sitter.
What options did we forget?  What are your thoughts?  Send us your ideas and comments through the Contact Us page and use "August Blog Post" as the subject.  We'll publish the best ideas in our next post and newsletter.
We hope to see you soon.  Please feel free to print out the sheet of coupons below.  All of the offers expire August 31st, 2015.  SAFE TRAVELS!