K-9 Kuts is proud, and very grateful, to have been awarded "Weston's Best Groomer" by Our City Weston Magazine.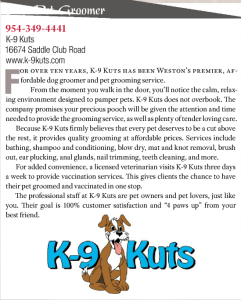 What can we say other than, "Thank You!"  For yet another year our customers and readers of Our City Weston voted K-9 Kuts as the Best Groomer in Weston. This is something we don't take for granted.  We work hard to earn your trust in us everyday.
Not only do we want to thank you for helping us win this award, but also to those of you who have left kind reviews, either on our Facebook page, on our Google + page, on Yelp, or anywhere else you've done so.  These reviews are very important to us as they help other people find our business and get real opinions and feedback about us.
If you haven't left a review yet, please feel free to click on any of the links above and do so.
Of course, no blog post of ours would be complete without reminding you that the coupons for the month are below!  You should be able to easily print them out.  Don't forget, they expire on 4/30/15.
We'll close with our usual reminder that the BEST way to make an appointment at K-9 Kuts is to go "old school".  That's right, just pick up the phone (you know, that thing you carry around all day and use to text, take pictures, surf the web, play Candy Crush & check Facebook.)  It also works as a phone!  You can reach us at 954-349-4441.
Thanks again for helping us win this year's award and for your kind reviews.  We hope to see you soon!