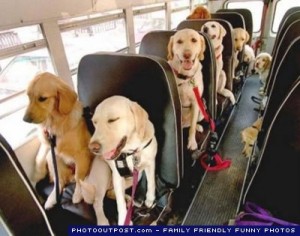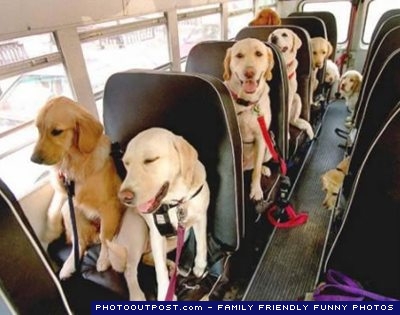 K-9 Kuts, Weston's Premier & Affordable Dog and Pet Groomer Launches New Website
All those pets in Weston, Bonaventure, Sunrise, Davie, Plantation and other surrounding areas who have come to know K-9 Kuts as their "Home away from home" and "The place to go to in town for excellent grooming, relaxing baths, nail trimmings, hair de-matting, the occasional flea dip and de-ticking and even the always fun anal glands expression, can now enjoy K-9 Kuts new website as well.
Just in time for back to school, K-9 Kuts launched the site.  Note the great looks of all the dogs on the bus.  Naturally, they all just got their back to school cuts at K-9 Kuts in Weston.
K-9 Kuts has won numerous awards from the various local magazines but they are even more proud of the fact that so many of their clients have been bringing their pets to K-9 Kuts for years and years.  According to K-9 Kuts founder and owner, Serina DePalma…
"Sure, we still get plenty of new clients but I'm still humbled by the number of people who have been bringing their pets to us for years.  We try to keep things calm and relaxed in the shop.  I guess the pets and the people pick up on that feeling and are comfortable with it."
The popularity of K-9 Kuts could also be attributed to their location in Weston near the Bonaventure Town Center Club, just west of Bonaventure Boulevard on the south side of Saddle Club Road.   And if it isn't the location, it's the overall value.  K-9 Kuts is probably the most reasonably priced, affordable groomers in Weston, or anywhere else in Fort Lauderdale or Broward County.
"All I ask is that people give us a try," said DePalma. "Once they come in the first time and see how we treat their pets and how they look when after their bath and grooming, I know they'll be back."