October Coupons From the Best Affordable Dog Groomer in Weston
If you need a Weston dog groomer, look no further! Call K-9 Kuts and find out what everyone has been talking about.
Another blog post from the best affordable dog groomer in Weston…
I can't say that the leaves are turning and that there is a chill in the air, at least not here in our neck of the woods (thanks Al Roker).  But as the thermometer starts dipping all the way down to the mid 80's its time to start thinking about wrapping up 2013 and turning our sites to the new year.
One thing to consider is Halloween.  Remember, our pets don't know what "costumes" are, so during the trick-or-treating, your pet will be MUCH happier if you keep the ghosts and goblins out of site.  After all, you don't want your pet having nightmares, do you?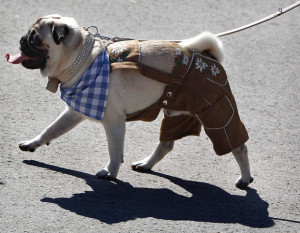 Another reminder:  as much as we all love the treats that abound during Halloween, dogs and chocolate are not a good mix.  Chocolate can be harmful or even deadly to your pet.  Please keep the Snickers bars away from your pets!
Finally, for the love of beer, please… let us not see too many dogs dressed like this for Octoberfest!
Here are this month's coupons.  Please feel free to print them out and bring them in.  Remember, the fastest and easiest way to make an appointment is to call K-9 Kuts at 954-349-4441.