The Most Affordable Groomer in Weston, K-9 Kuts!
If you are looking for an affordable groomer in Weston, look no further! Call K-9 Kuts and find out what everyone has been talking about.
Is it true that April showers bring May flowers?  I'm not sure, but take a look at this pic and you be the judge.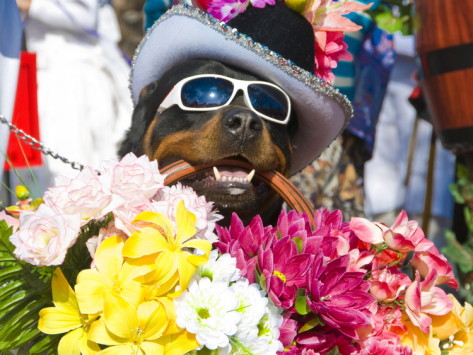 I'm not exactly sure what this picture is all about or where the pooch got those great sunglasses!  I do know that a dog like that would probably appreciate a trip to a good, affordable groomer in Weston like K-9 Kuts.
With the mercury already rising, isn't now a good time to bring your dog in for a good "spring cleaning"?  A nice short cut will allow your pup to stay nice and cool as summer heats up.  Besides the new 'do, when is the last time your pooch had his or her teeth cleaned?  Yep, we do that too!  Just let us know that you'd like to schedule a teeth cleaning and we'll get it all set up for you.
The teeth cleaning is just one more reason that so many of our clients refer to us as "the best groomer in Weston."
Call us at 954-349-4441 to schedule an appointment or visit our Contact Us page and request an appointment online.  Have a great month!  We hope to see you soon.  Please feel free to print out the sheet of coupons below.  All of the offers expire May 31, 2013.