May 2020 Be Full of Long Walks and Puppy Kisses
We thought that would be better than "peace and happiness for all"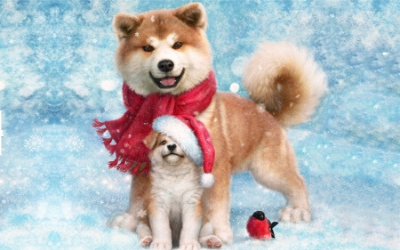 We'd like to take this space, especially at this time of the year, to express how thankful we are… FOR YOU!
When we started this business it was because of the old expression, "Do what you love and you'll never work a day in your life".  We've always loved animals and providing care for them and making them look and feel their best.  But through the years, we've realized that the relationships we've made with you, our clients, has had just as much of an impact on our day to day and overall enjoyment and pleasure that we get from our "job"
So for the remainder of this holiday season, we truly hope that you are able to enjoy time with family and friends (and that includes your four legged ones as well).  Our hope for you is that 2020 brings you whatever it is you're striving for… better health, travel, inner peace, world peace, or maybe you're perfectly content exactly how things are right now, and in that case, we wish you more of the same.
On a slightly different note, you know that you're gonna be posting family pics on your IG, Facebook, MySpace (just kidding… just wanted to see if you were really paying attention) and snap chatting away with people near and far. Please make sure your pups look great in those pics!  Bring them in soon so they look MAHHHHVELOUS this holiday season.
This is a busy time of year at the salon, so please  be sure to make an appointment by calling 954-349-4441.  Oh, and don't forget to grab the coupons below and bring them in!  (You can also just show them to us on your phone if that's easier.)
Hope to see you soon!  Remember, all of the offers expire December 31st, 2019.