We're So Excited to Show Off Our New Website!
The first things we did was make the coupons SUPER easy to find
Why'd we do that?  Because you asked!  The number one question we get at the shop is, "Where are the coupons on your website?" Even though we thought they were easy to find before, now we know that they are right there, just a single click away!
Take a look at the screenshot of the new home page below.  You'll always find at least two main pictures (like the dog in the cool sunglasses) that will take you directly to the monthly coupons.  Also, look at the circled link at the top right corner of the site… that will always be there and will also take you directly to the coupons.  (This months coupons are down below… so keep reading!)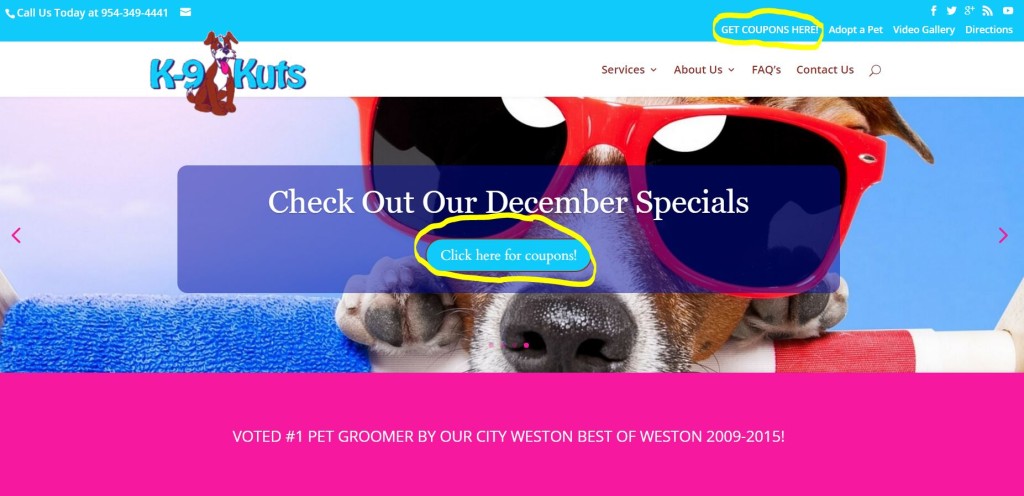 Big thanks go out to our web designer, David Lowitz.  David has been taking care of our website for several years and without us even asking he built this new site for us.  We love it and hope you do too!  (If you need a website for your business or just help with your online marketing, let us know and we can connect you with him.)
A very important note about the holidays… Christmas Eve / Christmas fall on a Thursday / Friday this year.  We know you're going to want to get the pups groomed and cleaned up for the holidays and your holiday pictures.  PLEASE make your appointments as far in advance as possible this month so we can be sure to get everybody groomed and ready for the holidays.
We hope you had a great Thanksgiving and that your December holidays will be equally, if not more special for you and your family.
Looking forward to seeing you soon! Please feel free to print out the sheet of coupons below. All of the offers expire December 31st, 2015 and remember that the best way to book an appointment is to call us directly at 954-349-4441.