March Means Spring is Finally Here, says the best groomer in Weston, K-9 Kuts!
If you are looking for the best groomer in Weston, look no further! Call K-9 Kuts to get your pet his or her "spring cleaning" today.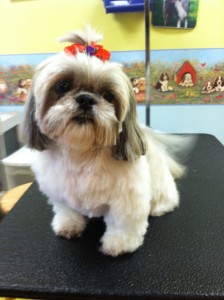 March brings us the start of spring time.  Not that there is much of a difference between seasons here in South Florida, but if you've had to travel anywhere this winter and have had your plans changed because of Mother Nature, I'm sure you're as glad as we are to see this winter go away!
Get the most out of this cool, breezy weather by taking a trip to the dog park, a stroll along the boardwalk at the beach or just a long walk around the neighborhood.
Of course, before you bring your pooch out in public to be "ooohed" and "aaaahhhed" at by so many people, you want to make sure your pet is looking its best, right? With that in mind, we present below what you all know, love (and ask for each and every month)… our COUPONS! Go for it! Print 'em out and bring 'em in!
Please feel free to print out the sheet of coupons below. All of the offers expire March 31st, 2019.